We have been celebrating our centenary under the motto "THE NEXT 100 YEARS". Since 1916 we have helped to shape the future of mobility through constantly reinventing ourselves, evolving from an aircraft engine manufacturer to a motorcycle producer and now a carmaker.
It is both exciting and challenging to imagine the future: how will society, the economy, living conditions – and therefore mobility – change? What possibilities will new technologies open up? How will digitalisation and connectivity affect our automotive needs?
To answer these questions, we have formulated six central hypotheses for individual mobility in the coming decades, based on key megatrends and future projections: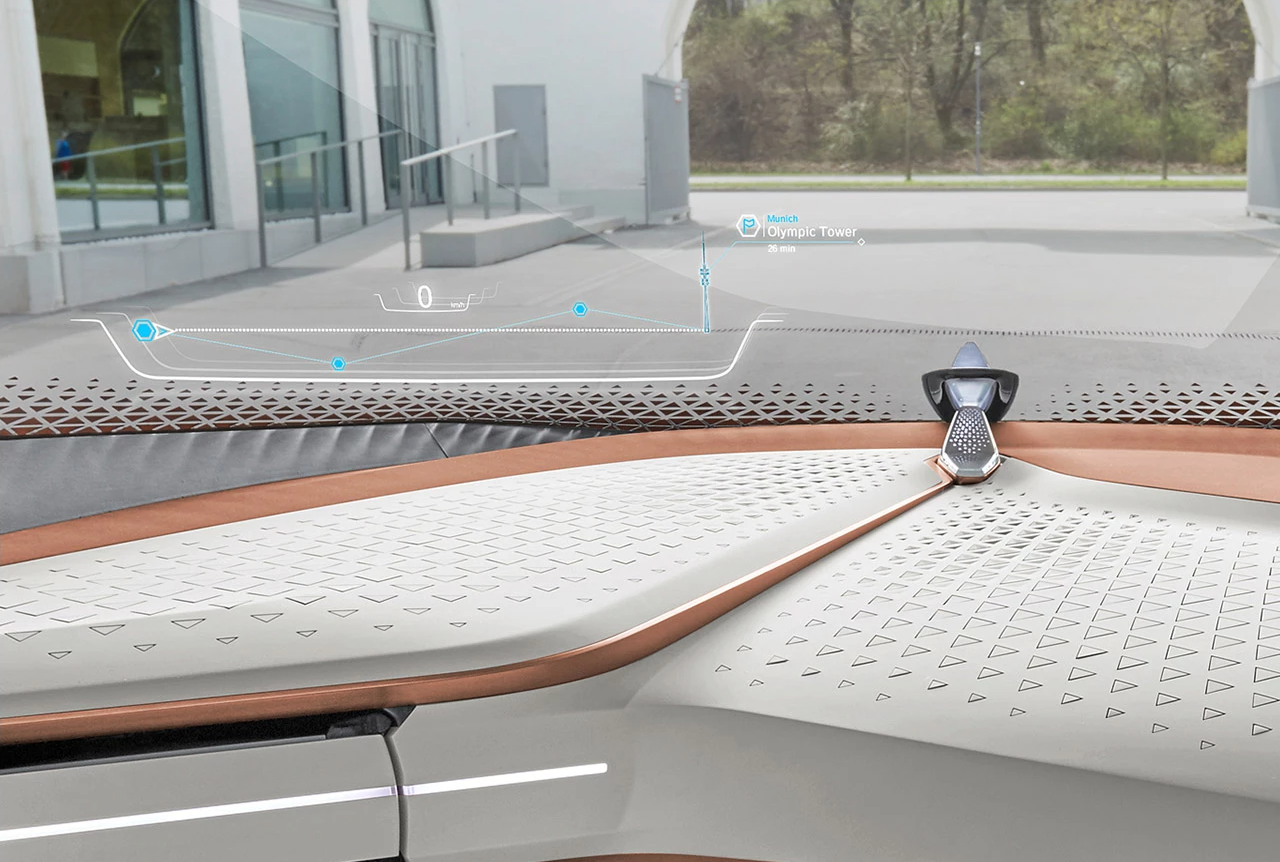 THE COMPANION.
The Companion symbolises a new intelligent communication between human and car. Resembling a large polished gemstone in the centre of the instrument panel beneath the front windscreen, the Companion provides intuitive and subtle assistance in every driving situation.
Perfect connectivity between you and your surroundings enables the Companion to provide the right recommendations to meet personal mobility preferences, both on the road and outside the vehicle. In this way, every trip is a personalised and emotionally rewarding experience.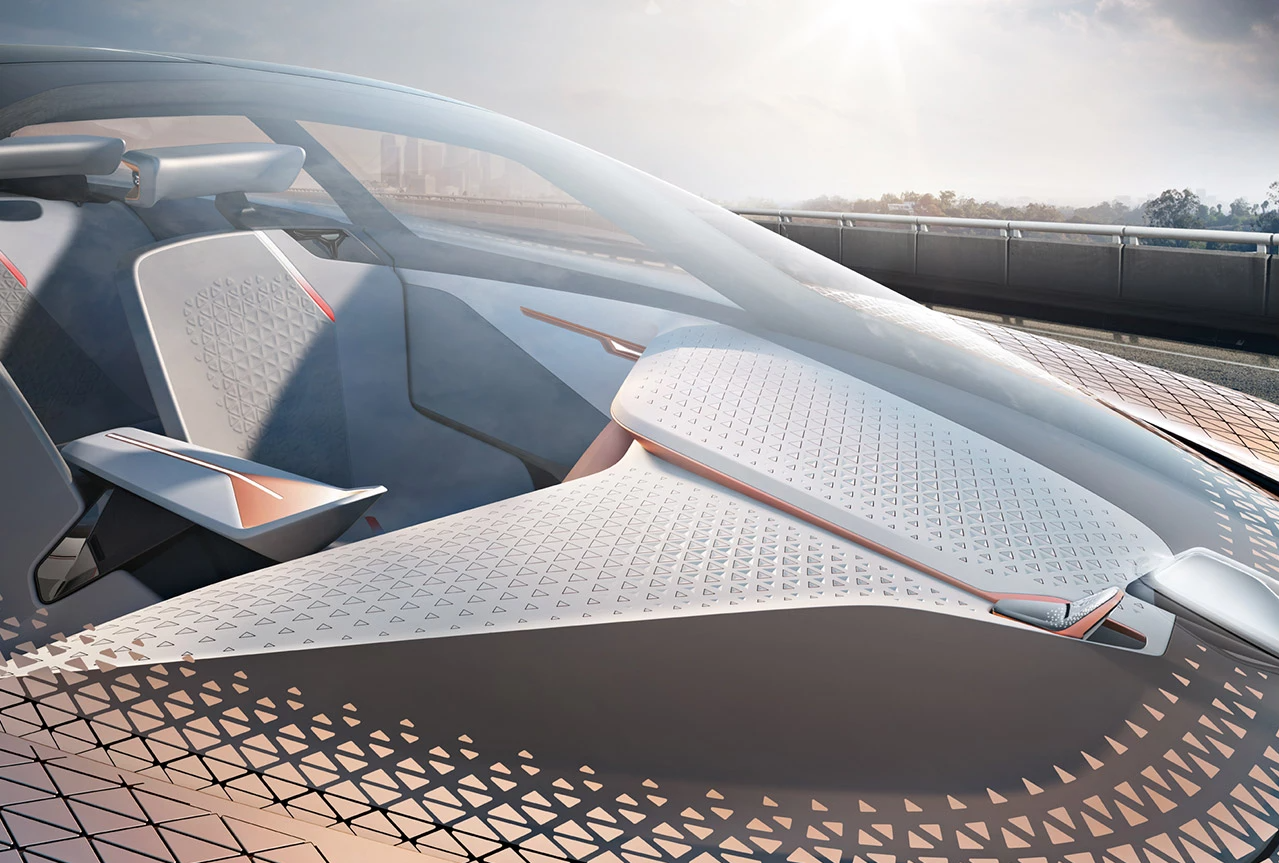 ALIVE GEOMETRY.
Alive Geometry is a mosaic of 800 sensor-activated triangles that form a dynamic analogue display, spanning the entire surface of the dashboard. These triangles move and turn red in response to other road users or objects in the vehicle's vicinity, generating dynamic patterns, alerting you to potential dangers ahead.
This revolutionary form of preconscious communication all takes place on the dashboard in your peripheral vision, which means Alive Geometry does not deflect attention from your field of primary vision – the road ahead.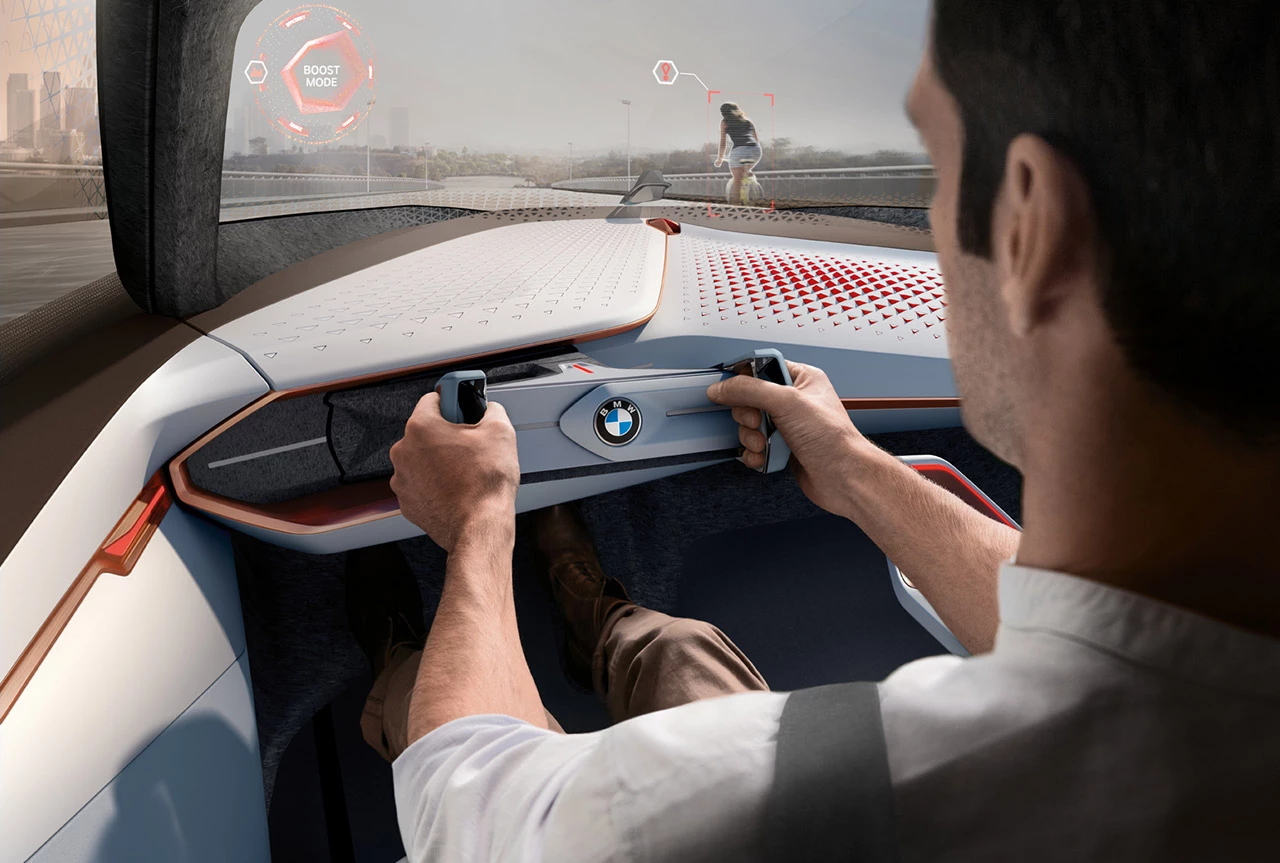 BOOST OR EASE.
In fully autonomous Ease Mode, the Companion takes over all driving duties. It ensures you and your passengers arrive safely at your destination and provides constant route, road condition and performance updates along the way.
In Boost Mode, everything revolves around driving performance. That's why the Head-up Display shows ideal driving lines and braking, steering and acceleration points directly in your field of vision.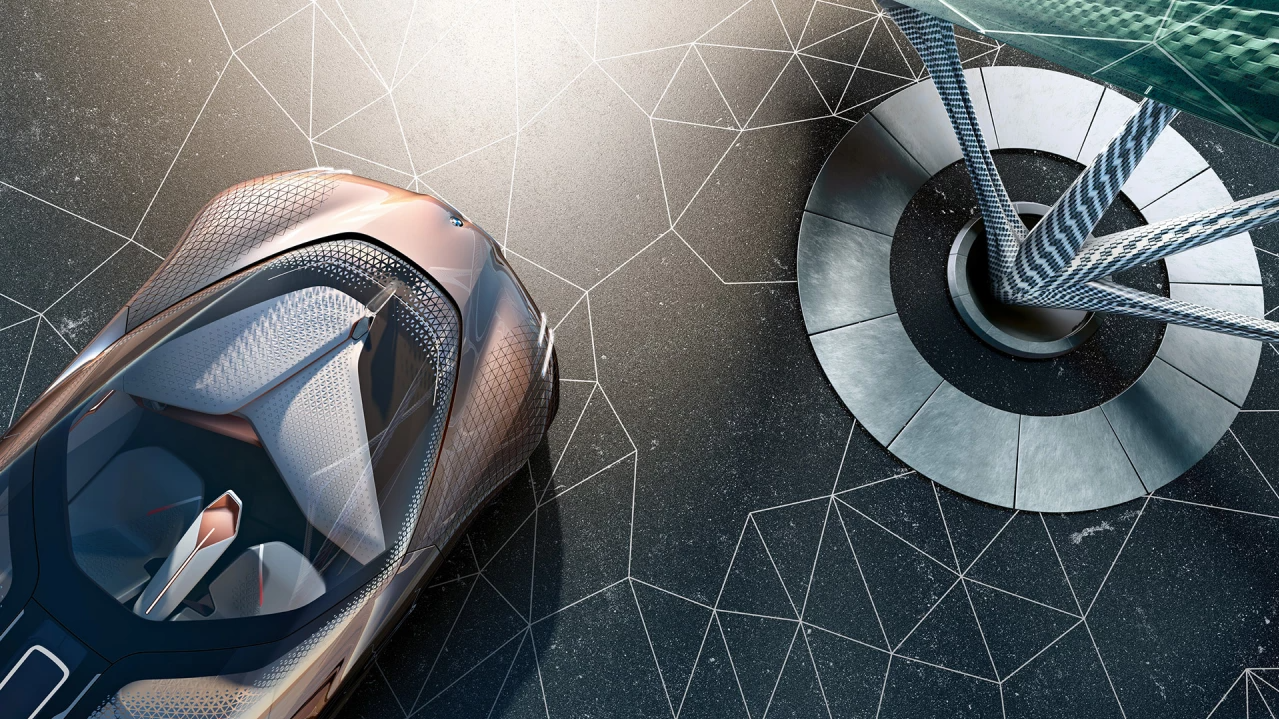 REFLECTIVE GLASS.
As well as increasing privacy, the vision vehicle's reflective glass reduces the interior heating of the vehicle by 30%.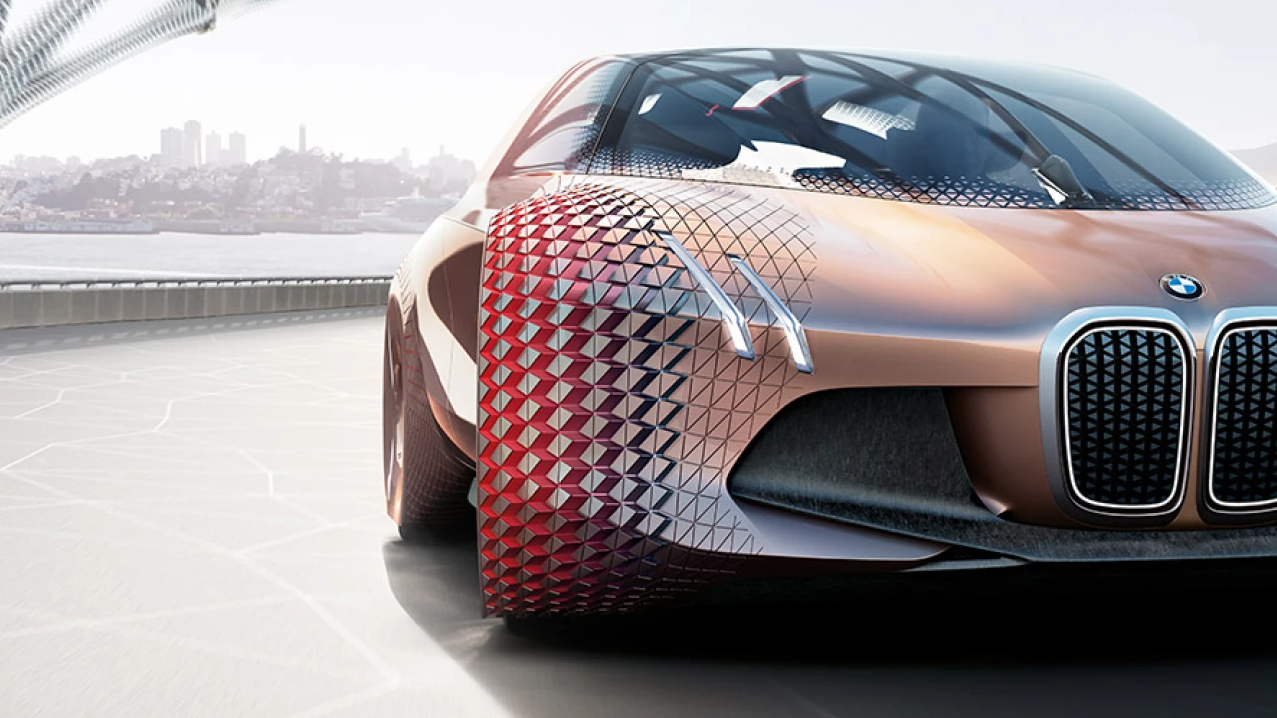 DYNAMIC WHEEL ARCHES.
Enclosed wheel arches help reduce drag and lower energy consumption.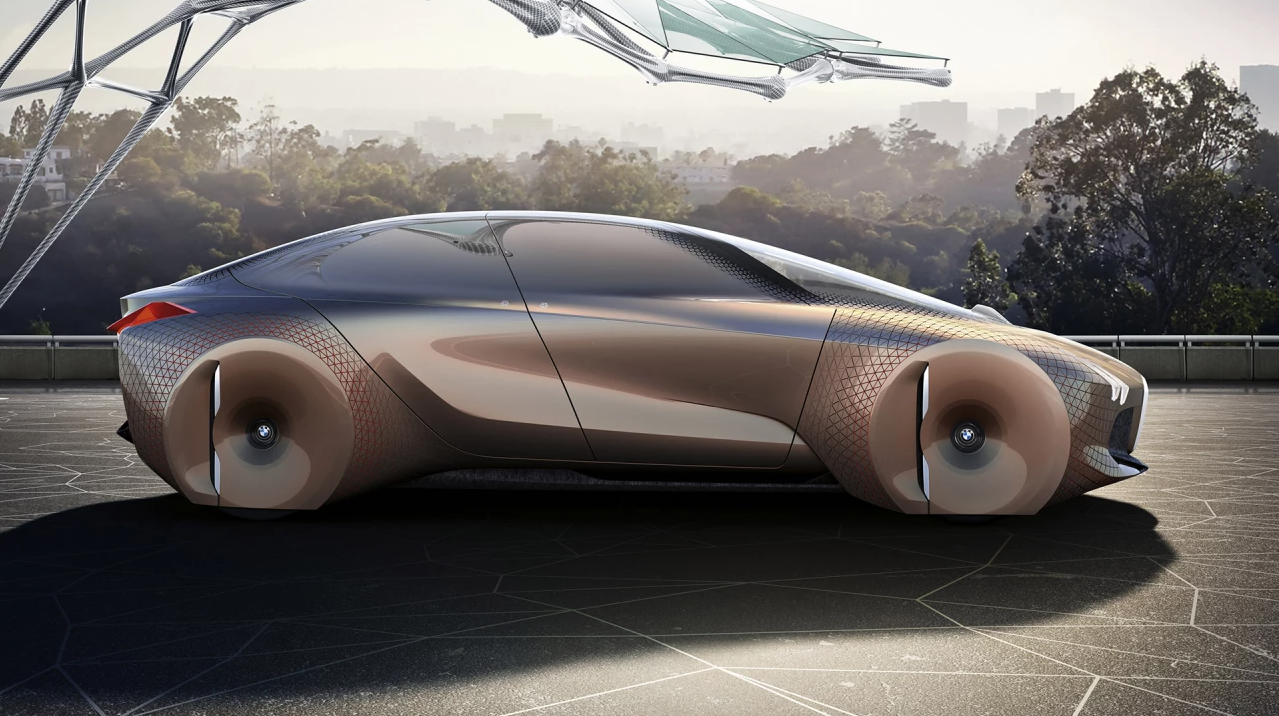 AERODYNAMICS.
Thanks to a streamlined design and fully closed outer shell, an exceptionally low drag of just 0.18cW is delivered.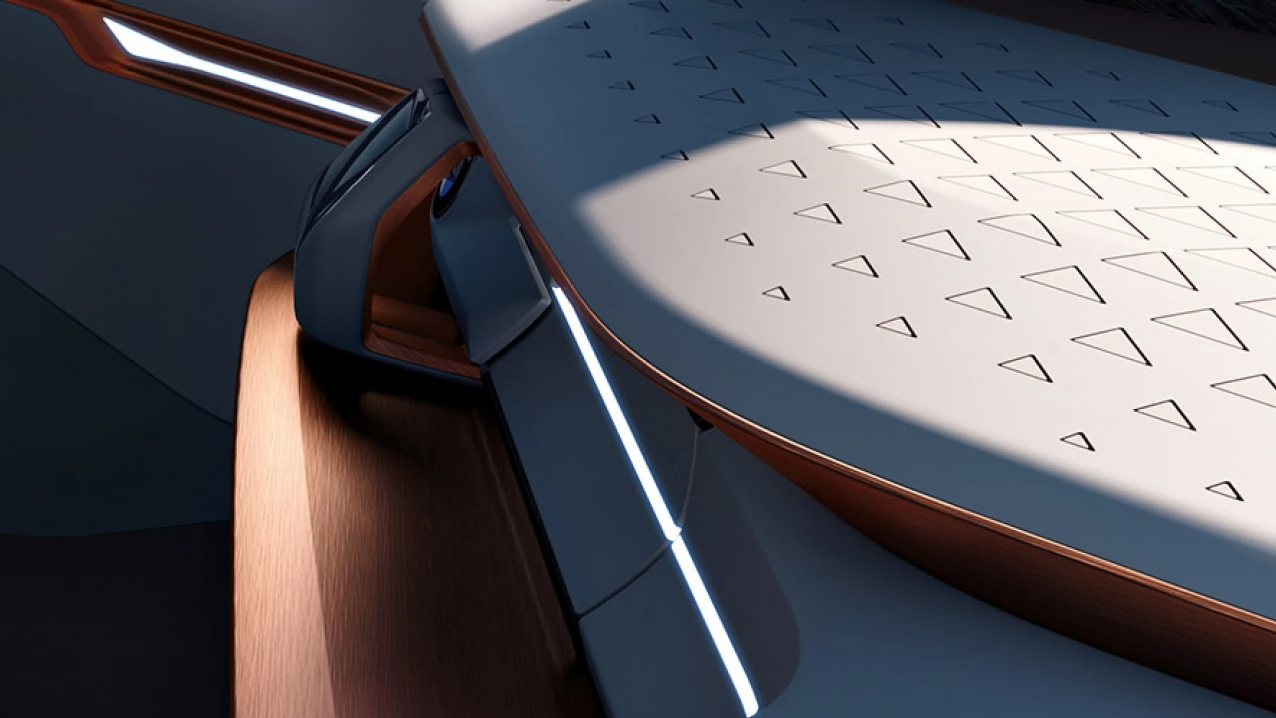 MONO-MATERIALS.
The 100% leather-free interior finishings are produced using mono-materials. These optimise the production process as they can be printed directly with paint.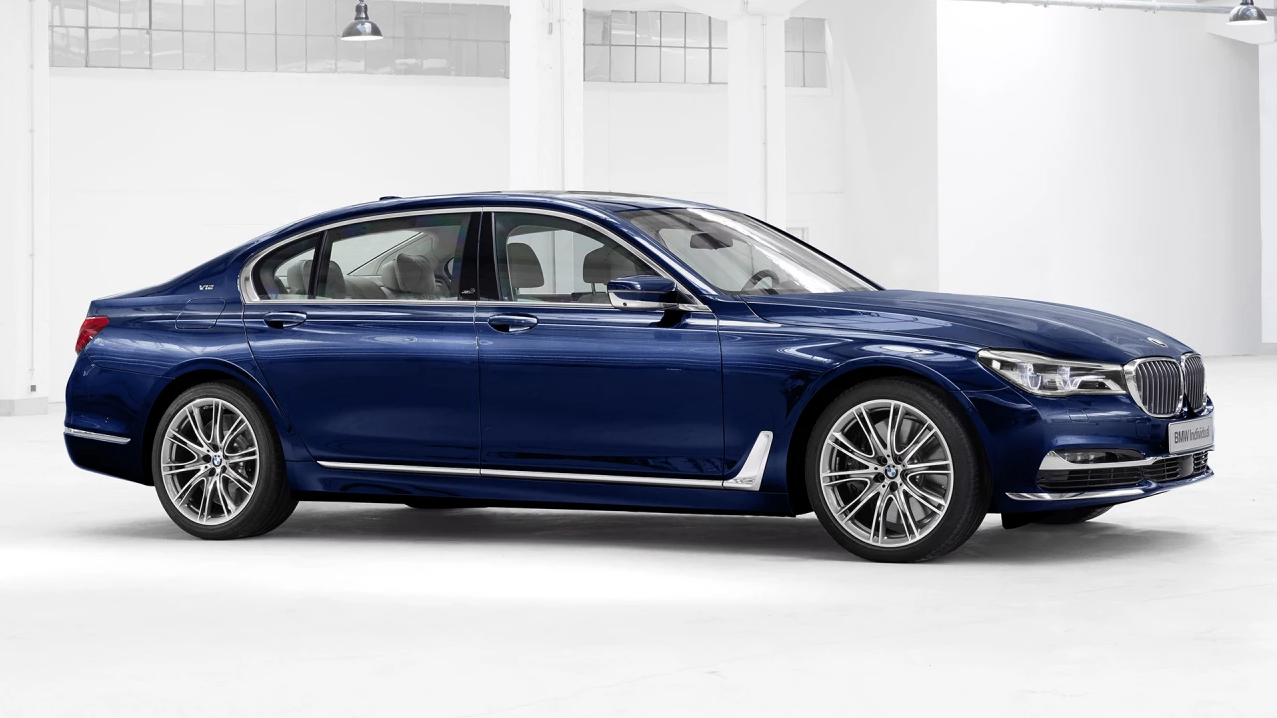 THE BMW INDIVIDUAL 7 SERIES THE NEXT 100 YEARS.
Marking the 100th anniversary of BMW, the jubilee edition of the BMW 7 Series emphasises the exquisite nature of BMW.
Featuring supreme craftsmanship, including a BMW Individual special paint finish in Centennial Blue Metallic, BMW Individual full Merino leather upholstery in Smoke White and a BMW Individual Black Piano Finish interior trim, the special edition of the BMW 7 Series is limited to just 100 models worldwide.